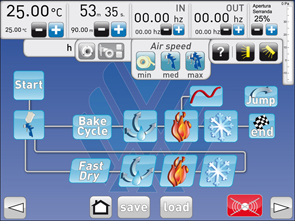 The introduction of Nova Verta International Touch Screen 2.0 make easier the first approach and the usage of the spray booths. It helps the daily work of every panel beaters.
Since it was presented, the Touch Screen has been put to the top of the entire production of Nova Verta spray booths control panels. The approach is intuitive, its usage easy: these one the distinctive features, that endear its public, especially if the Touch Screen is compared with "its ancestors": the hand control panels.
The user recognises, in a quick and sure way, the different areas of the panel and the main controls: start, stop, the temperature and pressure settings; moreover, even persons not technically involved in this work can easily identify the icons referring to the different production cycles (spray painting, flash off, bake, cooling) and consequently they can interact promptly and in a short space of time.
Nova Verta International S.p.A. put on the market two different kind of Touch Screen: the model 80, smaller, that displays its icons in two different screens (a main and a secondary one), and the model 90, bigger, that allows a faster consultation of all the controls because they are presented in one single screen.
The important step forward, made with this technological innovation, that enables to optimize spray booths performances, can be immediately understood in comparison with what the hand control panel Mod. 72 was proposing until now.